Now that I've recovered, here are some thoughts: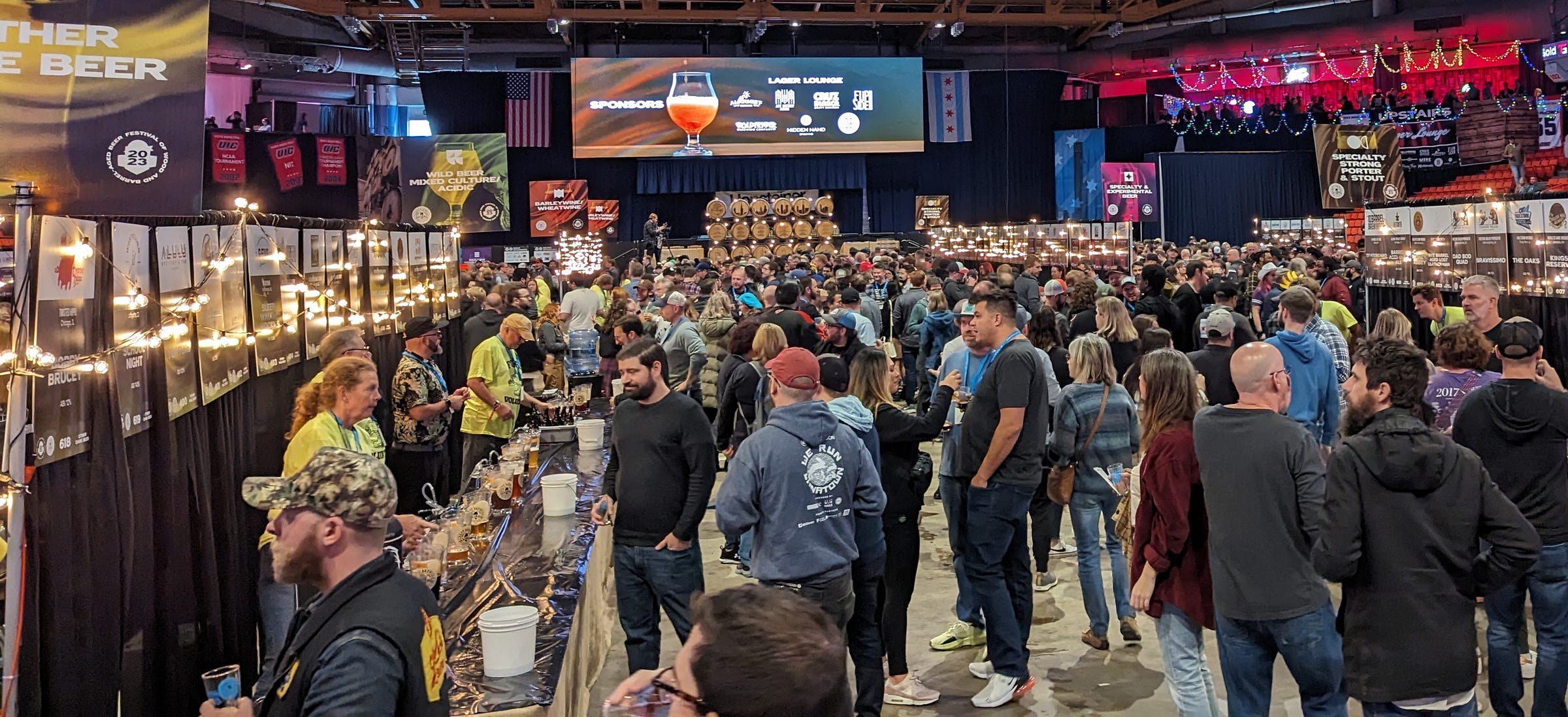 A big theme from many of the FoBAB 2023 award winners can be summed up in a single word:
"Who?"
That's what many of us kept saying as medals went not to well-established repeat winners with highly regarded barrel programs, but to small brewery after small brewery from around the Midwest and beyond whose names we didn't recognize.
Before FoBAB, how many of us had ever heard of Minneapolis' Idyll Forest Artisan Ales? Of Full Mile Beer Company & Kitchen from Sun Prairie, Wisconsin? Or Centerville, OH's Loose Ends Brewing? Or places like False Idol, or Ever Grain, or Magnanimous?
Most years there are winning beers from small locations but nothing, it seems, like this. And I think that's awesome.
Because, yes — big breweries with lots of resources still walked away with medals for their barrel-aged beers. Two of those are (or were until recently) big A-B brands: Wicked Weed scored a medal and 10 Barrel took home three. Boulevard, Sun King and Firestone Walker came away with wins of their own.
But we also didn't see any wins from reliable outfits like Werk Force, Pollyanna or Revolution. (We sadly also didn't have a previous reliable winner in the form of Smylie Brothers. I also got a genuine pang of emotion seeing the final barrel-aged beer pouring from Oswego Brewing Company. Alas.)
If all this means that the world of barrel-aging quality is continuing to flatten out, I'm thrilled for it. Beer is an industrial product but putting it into a barrel to generate a desired affect requires a certain art, as does blending those beers into something greater than the sum of its parts. Places like FoBAB are where you get to see the payoff of lots of expensive experimentation and investment in something special, and I'm happy to say that more FoBAB entries than ever are genuinely good beers.
If we've finally circled around to barrel-aged beer being a product that can be great from massive barrelhouses and just as great from single barrels patiently waiting in the corner of some small town taproom, then I'm perfectly happy with that. More exciting beers to explore for all of us. And any of us, anywhere, might be able to access world-class barrel-aged beers.

I also still love having the event at the Credit Union 1 Arena — with space for beers on the mezzanine, beers on the main floor, room outside for the Goose Island railcar and two separate spaces set aside for NA hop waters and lagers, it's pretty much the perfect size for a festival like this and still have room for people to sit and spread out. For those of you who remember the overwhelming noise (and, later in the event, the … aroma) of the wild/cider room at the previous location, you know what I'm talking about.
If I would want for anything, a little quiet space set aside for the sensory-sensitive would be nice to have. Other festivals have instituted this and there have been times when I've been overwhelmed by the simple sound and stimuli of a fest, even independent of alcohol consumption.
There are only two beer festivals that I travel interstate for: GABF and FoBAB. Even though prices haven't gone up in quite a while, $85 for a ticket to FoBAB1 is a bit dear (even in spite of inflation) but when you consider how much access you get to a whole world of amazing, inventive, creative, time-consuming and overall intense beers from around the country … well, I'm still saying it's well worth the trip.
Other takeaways:
It was a very big year for berry beers. Numerous stouts, barleywines and wild ales all came loaded with raspberry, blackberry, brambleberry and marionberry flavors, which I'm going to assume is a function of cost concerns from when these beers were being put away amidst a global pandemic 12, 18 or 24 months ago.
I don't consider that a bad thing, though: One of my favorite beers of the day was Resident Culture's Spontaneous Raspberry, which I thought was better than their medal-winning Ego Death stout with vanilla. Still, a little different from past years where peanut butter, Madagascar vanilla beans, exotic coffees and other spices reigned supreme.
Speaking of berry beers (tangentially, at least), this is where I tell you that if you name a beer Fart At The Devil: Raspberry, I am bound by duty to try it at least once. I'm still not letting Niles Brewing Company off the hook for not yet sending a label for this through the TTB. (It was fine.)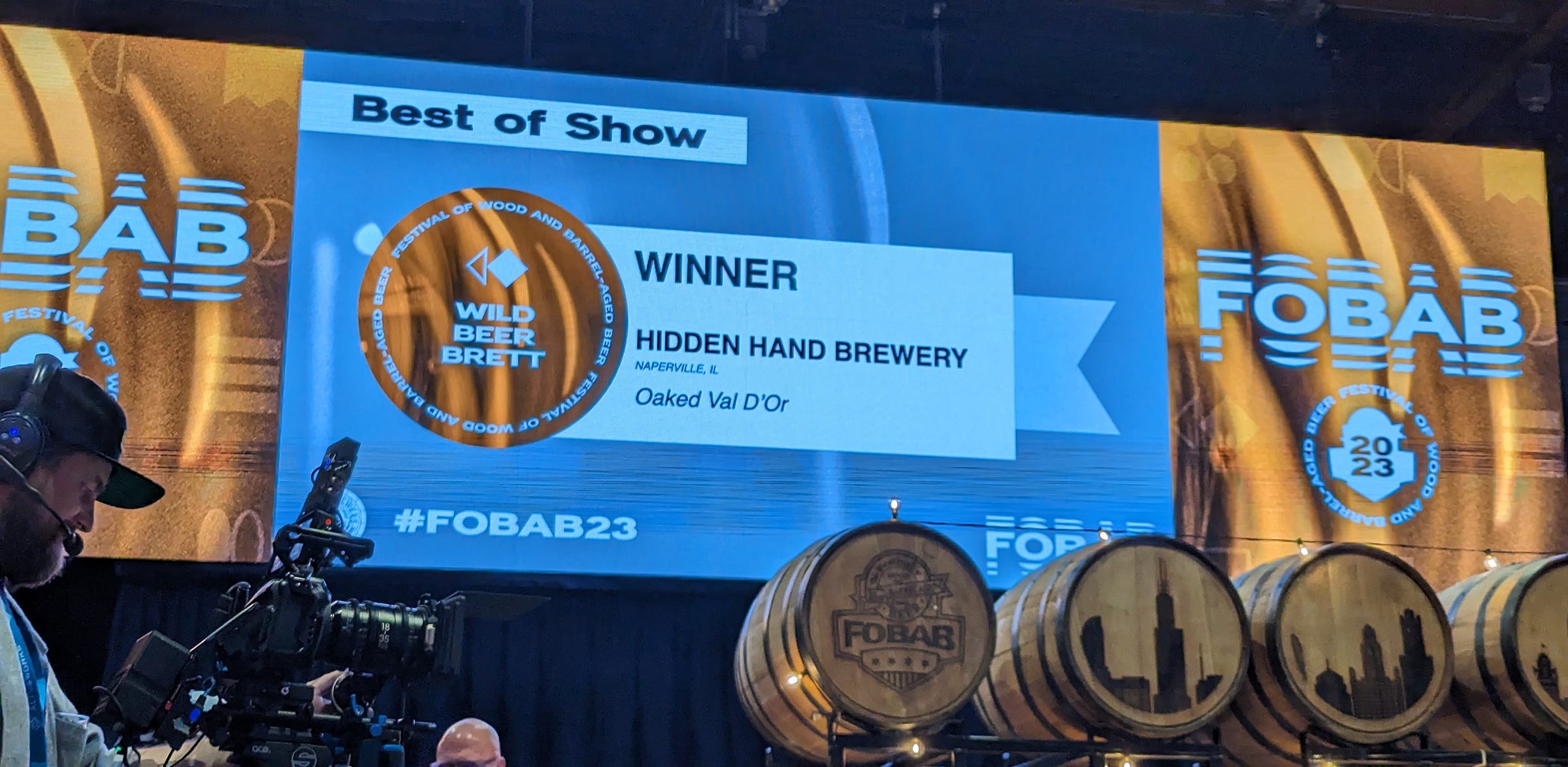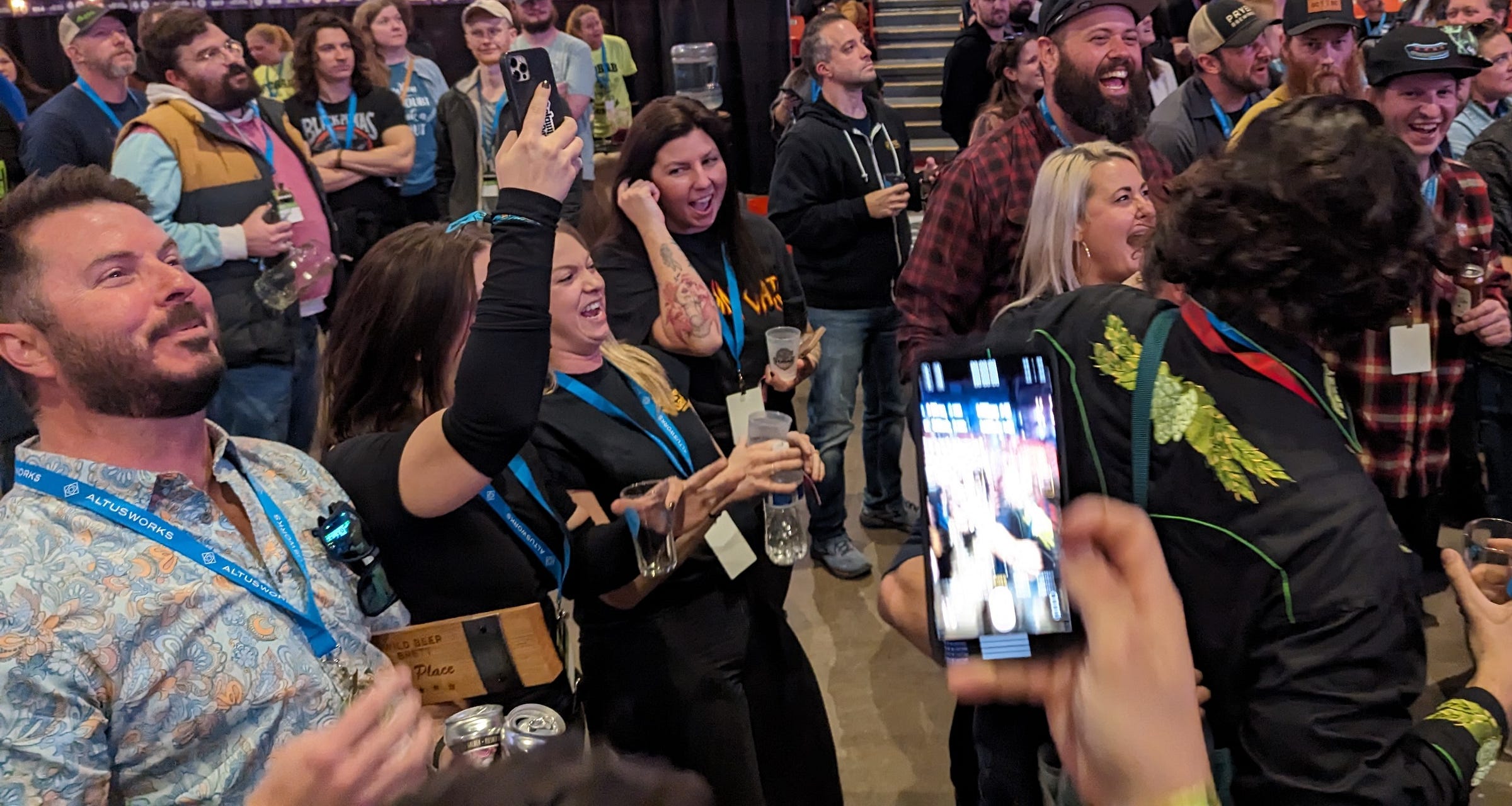 At the beginning of the festival I ran into Eric Hobbs, COO of Solemn Oath/Hidden Hand, and we chatted a bit about the entry he was gushing with pride about: their Oaked Val D'Or wild brett beer. It was wonderful to see the whole team erupt in applause (see above) when this love letter to Orval was named not just a gold-medal winner but Best in Show. Especially knowing how experiments with barrels and brett can either go very right or very wrong, you can tell they knew they nailed it and clearly the judges agreed.
Interesting to note that the last four FoBAB Best In Show winners have been non stout/porter/barleywine styles. A cider, two wild mixed culture beers and now wild brett have all taken the top spot since 2020.
If you've seen the labels I've recently shared from Lupulin Brewing (Premium Subscribers have seen them, anyways, ahem), you know their artists are talented — but after sampling their Scribbled Lines: Rene V2 I can tell you that their brewers are as well. This was one of the few beers I went back for another pour of; big bright sour golden tart acidity that punched right through the noise to spark a lot of flavor joy.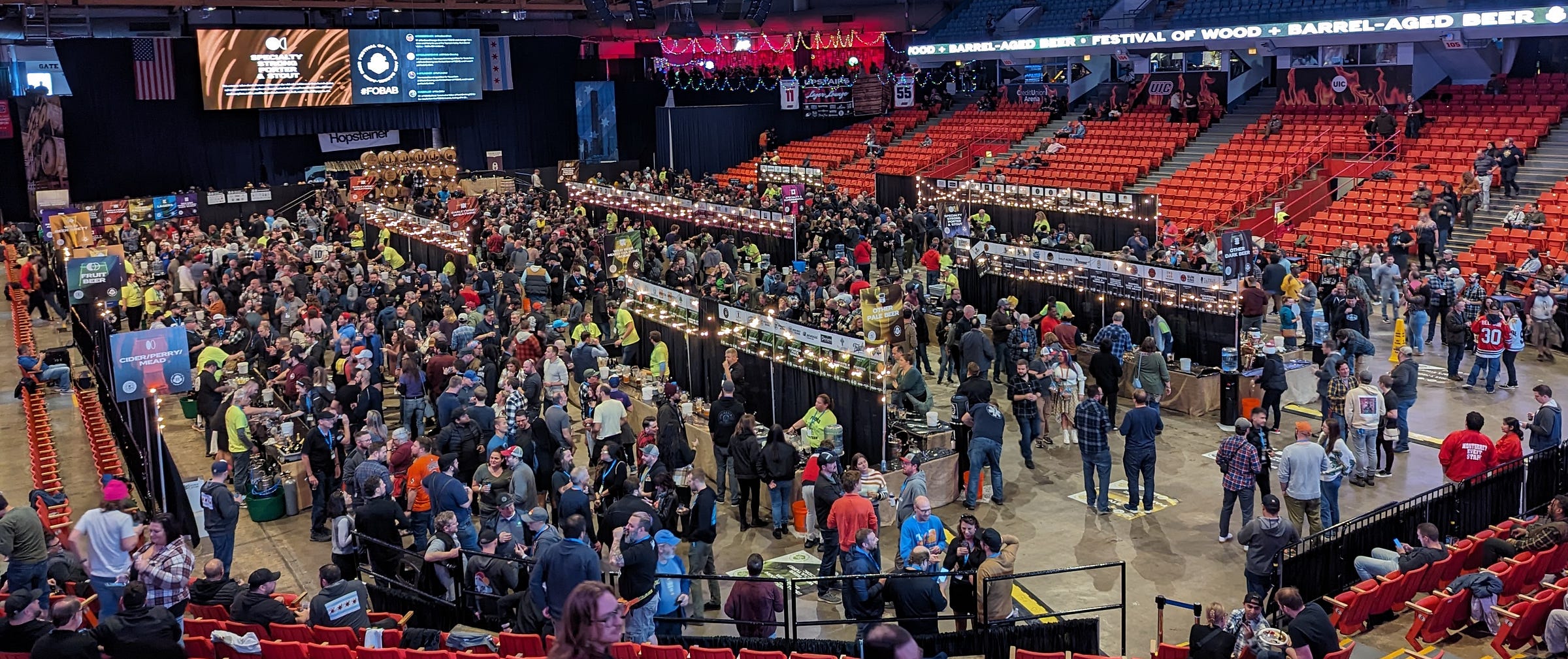 Before things got too crazy, I hunted down a Super Zero hop water from Revolution. I have no strong opinions on hop waters save to say that this one did pack a well-hopped punch to a palate that was thick with viscous stout; fully enjoyed it as a break to barrel-aged beers but not sure I'm ready to drop $9 for a six-pack.
I bet that winning two big awards for their Mehndi 2023 bourbon-barrel-aged stout — Gold for Strong Porter/Stout plus Runner Up – Best in Show — made MORE Brewing a bit more confident about their decision to drop $6 Million on the new Fort Wayne facility that just broke ground this week.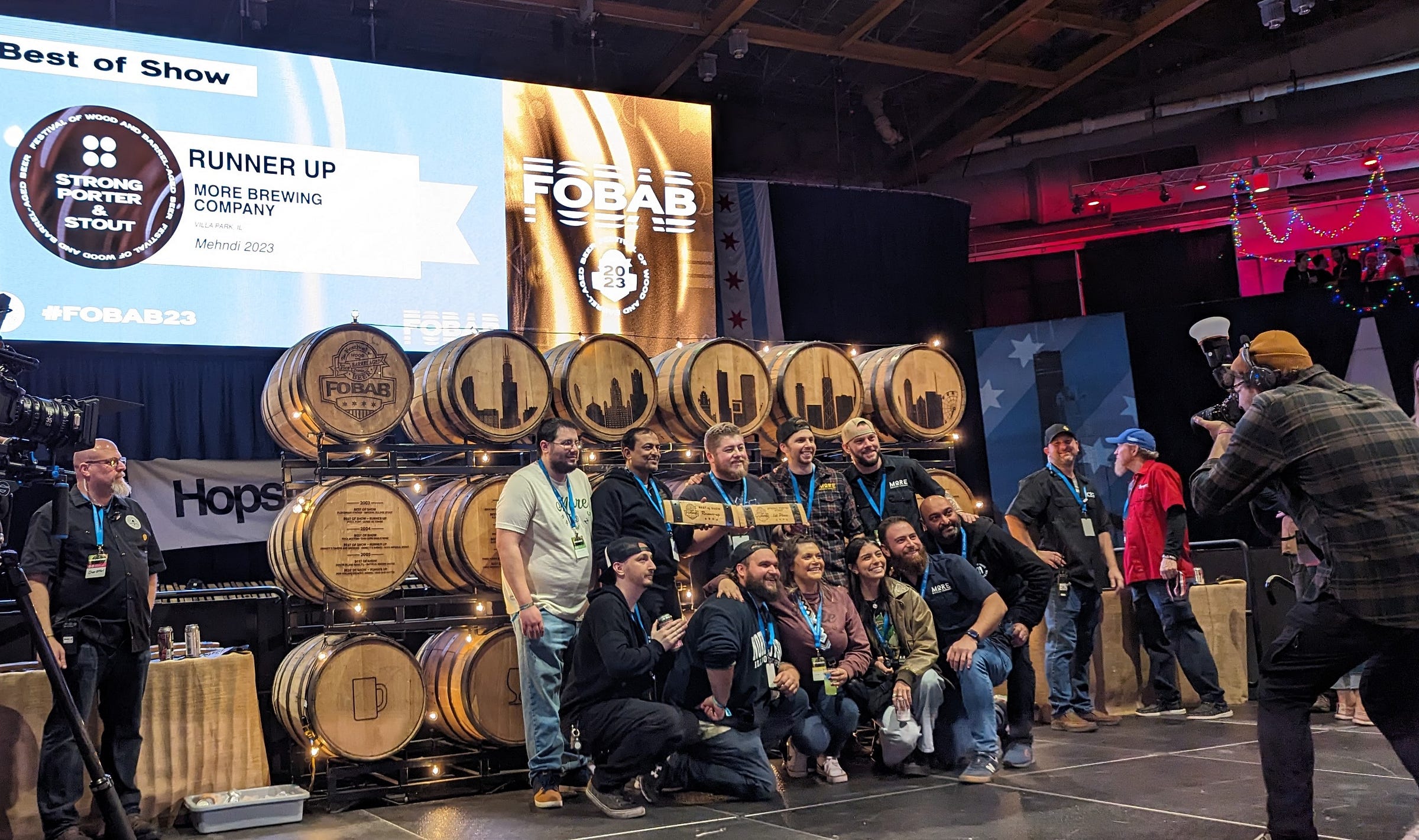 Metropolitan Brewing won another award this year for their barrel-aged Generator Doppelbock, but I had a pour of their BA Afterburner and man, I thought that beer couldn't get tastier, but it did.
Speaking of beer styles you don't see a lot at FoBAB, I had a pour of Dovetail's XO7: Wild Hefe, and you know what? I liked it! You wouldn't expect a blend of wild beer to interlace pretty seamlessly with their creamy, fluffy weizen but it did, and I dug it.
Haymarket's Icky Bob Thornton may just be2 the best Malort-barrel-aged beer I've ever had. Most brewers opt to just hammer you over the head with wormwood, but this one used the spirit's natural dryness to meld beautifully with the blood orange to land this blonde ale with a nice grapefruit-bitter finish. Loved it.
I had heard a lot about Brothership's two entries so I tracked them down ASAP — the barleywine was nice but that Oumuamua imperial stout with a sizzly little rye-barrel spiced finish, mmm. Good stuff.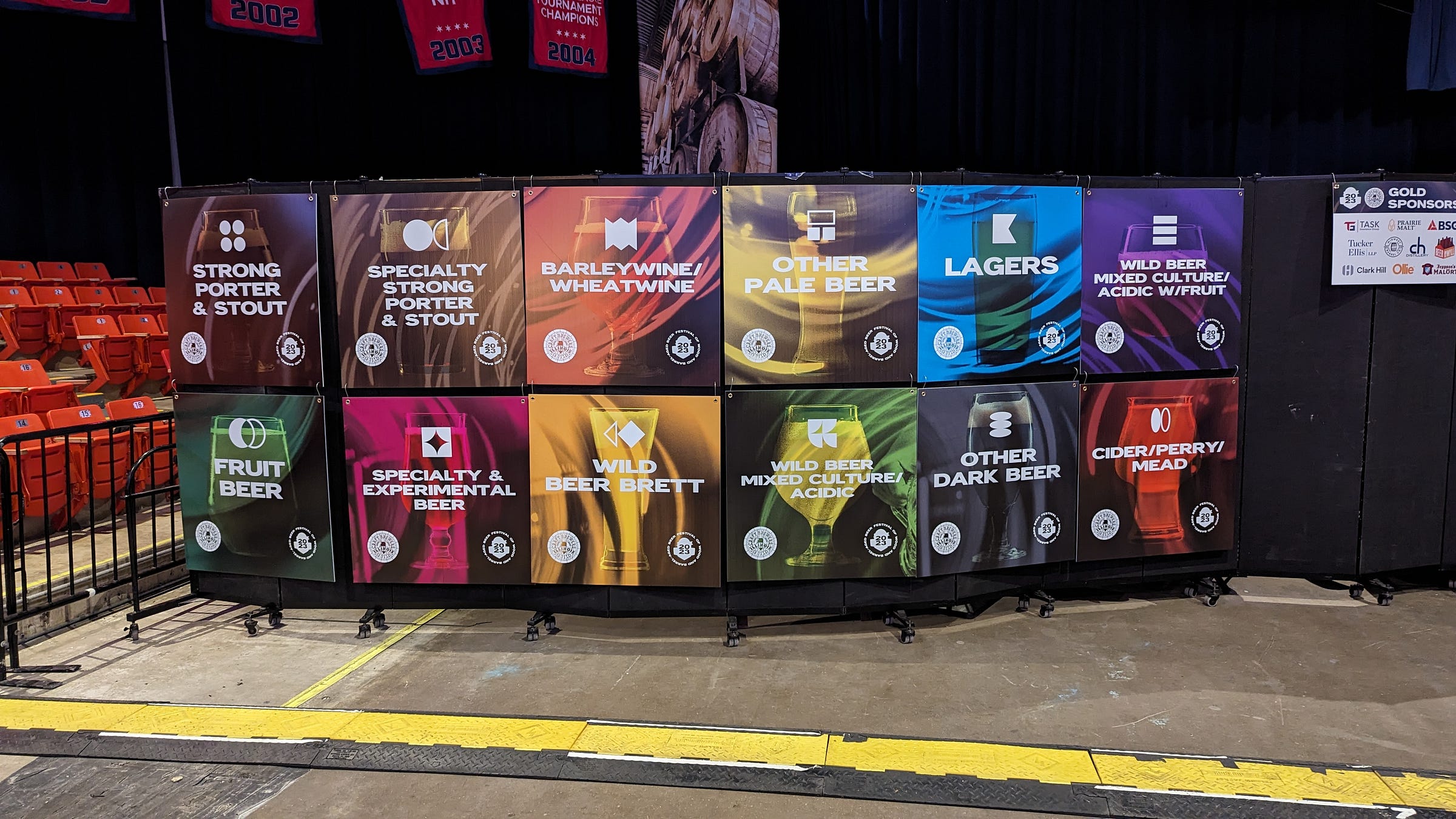 A final note on attendance:
This year's event seemed a bit less populated than in the last couple years; whether or not that was due to a different configuration of beers on the floor vs on the mezzanine or fewer beers overall or if there were just fewer attendees there. I don't know for sure.
Goose Island has also had stations both inside and outside at past events; that wasn't the case this year — everything was pouring outdoors, which I assume added a few extra square feet. (And it was a beautiful day to be outside, too.) I also don't know what Friday night's crowd looked like either.
I can tell you that I definitely wasn't crowded for space for most of the day on Saturday. I do hope that the Illinois Craft Brewers Guild got what they needed from this annual fundraiser of a festival, because I genuinely do not want to end up back at the UIC Forum next year. Fingers crossed the financials made sense.
1 Disclosure: Yes, as members of the beer media, the guild comped us our access to FoBAB 2023.
2 It is.
More From Guys Drinking Beer